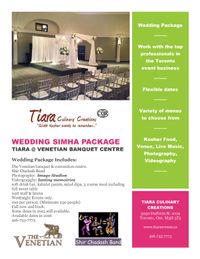 Shir Chadash Band is proud and excited to announce that we are part of the 'Tiara Events Wedding Package'.The 'Tiara Events Wedding Package' represents the best value for services rendered in the Toronto and GTA
Jewish, Kosher catered wedding market today.For the full package details, including venue, pricing information and immediate bookings, please contact:Joe Elmaleh @ Tiara Culinary Creations Ltd. - Glatt Kosher Catering
416-829-2829
joe@tiaraevents.caWe truly look forward to being a part of your Simchah!
Shir

 Chadash Band is proud to be the new premier Jewish wedding band & orchestra in the City of Toronto and GTA area.

Please press play on the music player at the bottom of page so we may share some of our music sample experiences with you as you read about us.

Founded by established singer/guitarist Eldan Cohen and drummer/percussionist Yoseph Levy, Shir Chadash Band brings a new yet traditional sound to the Jewish Toronto scene, near perfectly blending the modern sound of Jewish music with the classic popular Nigunim we all cherish, respect and admire!

Whether it is our soft and elegant cocktail music, touching Chuppah music accompaniment, upbeat Jewish Simchah dancing or a 'rocking' contemporary set, Shir Chadash Band is at home in all music genres, offering you a high standard premium of music quality, style, service and professionalism at a price and budget that you, the Baal Hasimchah, can afford.

If you are searching for a Jewish wedding band that is enthused at being an integral part of your Simchah , musically diverse, professional and easy to work with, then you have certainly come to the right place.
 
For All Your Freilach Jewish Music Needs Call Or Contact:
Shir Chadash Band
www.shirchadashband.com
We Specialize In Chasunas/Weddings!
Yoseph Levy 416-457-0805          Info@shirchadashband.com